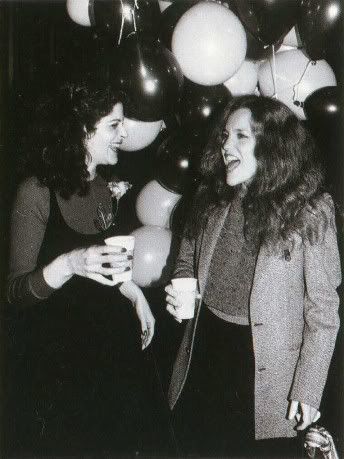 Gilda Radner and Madeline Kahn
Happy Friday! I hope you had a wonderful week. I am having a little Friday afternoon dance party at my desk as I write this. The sun is shining and we are enjoying pretty mild temps after a real cold snap. Just in time to get out celebrate the weekend! Tonight I'm heading to check out the art at two new exhibits opening at the UNB Art Centre and then it's off to celebrate the great local food folks from
Real Food Connections
. Tomorrow I'll be cheering on my cousin Danielle in some high school basketball. I'm also finishing my first script treatment. As part of my script-writing class we are each writing a one-act play in five weeks! It's a little daunting but also exciting. As my friend Lori says: "Doing is believing."
And, of course, I'll be making some time to get out and enjoy the great weather. How are you spending your weekend?
Here are some fun links to end the week.
* awww. My name is Heather and I'm a sap-a-holic... a group of old men get together at the local Tim Horton's to sing barbershop renditions of a Disney song. Commence ugly crying.